If the challenge were a little longer I might make these separate days but the halved time frame requires some economy with prompts.
I'm sure we all have a decade that speaks our sartorial language and over the past few years we've seen a huge interest in vintage fashion. Victory rolls, wide legged jeans, neon...all places we've bravely gone before but don't mind revisiting. My inspiration pictures start in the 20s but you can go as far back as you want for inspiration (know how to update a fig leaf? I would love to see that).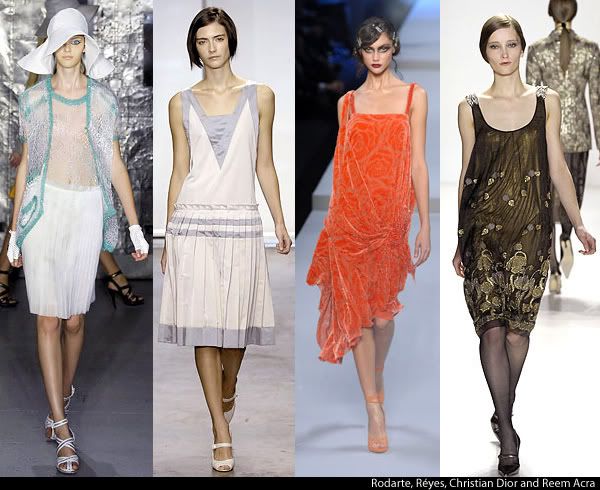 1920s inspired dresses and hair (2008 collections from Rodarte, Reyes, Dior and Reem Acra) [source]
All kinds of fantastic 40s fashion inspiration [source]
50s style fashion shot by Mert and Marcus for Vogue in 2010
60s inspired dress from ASOS
70s style from F21
The other day I saw a super cute girl wearing what I can only describe as a modern, daytime wear friendly kimono. It was a lot cooler than it sounds (I should have sucked it up and asked for a picture). It was obvious where her inspiration came from but it wasn't costumey at all. So if you have a regional style that speaks to your soul then go for it! Kimonos, dirndls, saris, lederhosen etc. They're all up for interpretation.
Sari inspired scarf (SO pretty) [source]
Modern designer's take on traditional Turkish clothing (I would wear that vest in a heartbeat) [source]
I said this a couple days ago but try to keep from going Halloween with this. This prompt isn't permission to bust out that poodle skirt you sometimes wear in October. You can go all out if you want but that's not required. Sometimes one 80s inspired neon bracelet is enough to get your point across.
Come back tomorrow to link up here or add your picture to the
Flickr group
!