I always go kind of crazy cleaning lady right before Christmas. All I want on Christmas morning is to wake up to a sparklingly clean house. I would
really
love it to stay that way but I know that's like asking pigs to dance the hula.
While cleaning and organizing my closets (and preparing for my uncle to come stay with us) I realized we have a rather glaring hole in our linen closet: blankets.
I mean, we
have
blankets, but they're awful. They're holey or bright pink or sandpapery or all of the above. I have no nice blankets to cuddle up with on the couch or offer to houseguests. The more I've thought about it, the more I've realized I just need to toss everything on our blanket shelf. It's
that
bad.
Back in November I did some Christmas shopping with my mom and saw
this Martha Stewart blanket
at Macy's.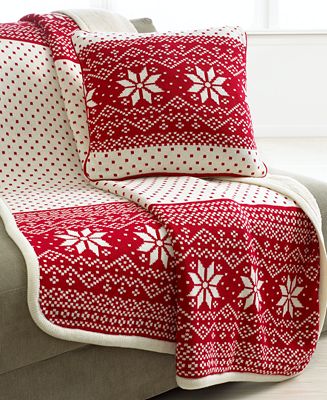 It's absolutely gorgeous in person. It's soft and substantial and just begs for a good couch snuggle. It's also like $120. At the time I kind of recoiled in horror just absolutely positive that was a crazy price tag for a blanket. Unfortunately, the more browsing I've done the more I've realized that's pretty standard for a good quality blanket. Some of the other ones I've really loved have pushed the $200 mark. For a
blanket
. It pains me.
After I had this post all written I complained to my mom about my blanket issue. Last night she went to Macy's and found a wonderful Ralph Lauren blanket on sale for $40. Good old Macy's to the rescue! I love that place.