A couple weeks ago I thought to myself, "I'd really love a new dress to wear on Christmas." Almost immediately I followed that thought with, "Nah. I don't have enough cash to get myself something I'd really like." But then my brain went, "Duh. You own a sewing machine, tons of fabric, and multiple patterns that you haven't ever used. Get crackin'."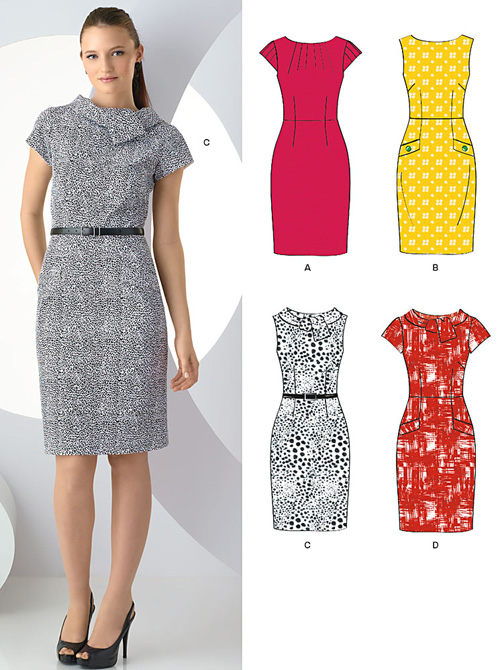 I bought
this pattern
ages ago so I could participate in the
Presserfoot Mad Men Sew-Along
. I carefully altered the pattern to my measurements and then..something happened. I don't remember what but I didn't get any further than that. Inexplicably, I also threw away every part of the pattern beside the bodice front and back for view A and the sleeve pattern for view D. I wish I remembered my thought process for that.
Crazy face courtesy of me feeling super awkward about taking outfit photos in front of my fam.
Fortunately, that was all I needed. UNfortunately, despite painstaking pattern alterations way back when, it was not even close to fitting properly. The vast majority of the time spent on this dress was nipping and tucking and trying to get it to fit like a wiggle dress and not a paper bag. I also lowered the neckline significantly since the original pattern actually had turtleneck aspirations. I did a neckline facing instead of a lining since, again, I apparently didn't feel the need to keep that part of the pattern.
Matchy! Love my Eos lipbalm.
For the skirt I used my wonderful custom
pencil skirt pattern
. It fit like a dream from the get-go. I will love that pattern forever.
Dress by me, thrifted belt and shoes, necklace from ATL, bracelet from JewelMint (Christmas present from my sister that oh-so-conveniently matched my outfit for the day)
Even with all the bodice alterations it still came together surprisingly quickly (two rainy-day naptimes and one late night hemming session) and I love it! I feel like it has a classic shape that lends itself to a lot fun remix possibilities.
The fit is still not perfect (that's my biggest sewing hurdle right now..I think I need to take a class or read a book or something) but it's a
big
improvement over my
Halloween dress
. I'm getting better!
Special thanks to Nikki for being willing to snap a few pics while also holding/bouncing her baby. That's a talented woman right there.