Can we just talk about how amazingly awesome my birthday was??
First,
Janssen wrote this incredibly sweet post
that maaaybe made me tear up just a tiny bit every time I read it (which was like 6 times throughout the day). One of the great tragedies of my life is that she is not my next door neighbor. How did I get so blessed with such a friend??
There were like a million wonderful comments and facebook messages which just made me feel super loved all day long (THANK YOU!!). Also, I currently have
26
comments on
my birthday post
. *twilight zone music*
Definitely RA
sent me this AWESOME ecard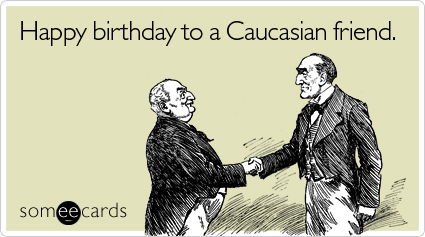 It really does not get much better than this.
Another dear friend brought me purple balloons tied with twirly ribbons.
Raquel
dropped off some deep fried nutella wontons (they were as amazing as they sound). There were lots of lovely gifts throughout the day from friends and family.
We dropped off the kids with my parents and Aaron took me to
one of our favorite restaurants
(we had our pre-wedding dinner there!). And I got to wear my new dress. And take crazy windy outfit pictures in front of a helicopter. Because why not?
Wearing earrings from my in-laws, dress by me, bangles from Last Chance, Steve Madden heels via Last Chance
I really wanted a new dress for my birthday but nothing was really striking my fancy at a price point I was interested in. And then
Madeline
posted about
this watercolor dress
last week and I was like, "THAT."
So, fabric paints + 3 yards of white silk +
Burda's Anda pattern
+ some tweaking = watercolor birthday dress! When I showed Aaron he said, "It either looks really expensive or homemade." Sweet.
I think I'm going to paint it some more. Maybe wrap it around the back a bit. I have plenty of paint left to play with, so why not? Also, I made that tie from leftover silk but next time I want to try it with my blue belt. The sash kept coming untied. Kind of annoying.
26 is going to be good. I can feel it.
Want to see how I made this dress? Hop over to my fabric painting tutorial! Looking for a similar project? Try this dip-dye skirt/dress!
Posts may contain affiliate links. Thanks for helping me support my blogging habit!